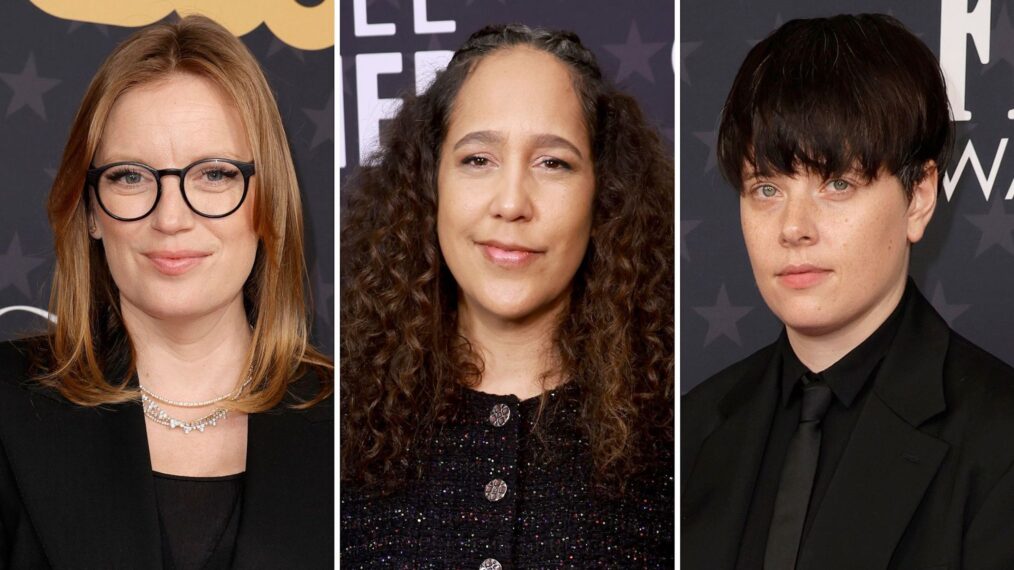 The Oscars has returned to its problematic tradition of shutting women and people of color out of the Best Director category. No women were nominated for Best Director during the 2023 Oscar nominations on Tuesday, January 24, despite there being a bevy of eligible films directed by them — one of which was nominated for Best Picture. With one exception, all of the nominees are white men.
The 2023 Oscar nominees for Best Director are Steven Spielberg for The Fabelmans, Daniel Kwan and Daniel Scheinert for Everything Everywhere All at Once, Todd Field for Tár, Martin McDonagh for The Banshees of Inisherin, and Ruben Östlund for Triangle of Sadness.
Women Talking, written and directed by Sarah Polley, was nominated for Best Picture and Best Adapted Screenplay, but Polley did not receive a nod in the Best Director category (her screenplay just won at the 2023 Critics Choice Awards, and she was the one woman in that Best Director category). Kwan is also the only person among the all-male nominees who is not white.
The Women in Film, Los Angeles organization responded to the women directors shut-out in a statement following the nominations, which were announced by Riz Ahmed and Allison Williams.
"Once again, Academy voters have shown that they don't value women's voices, shutting us out of the Best Director nominations," WIF said in a statement. "An Academy Award is more than a gold statue, it's a career accelerator that can lead to continued work and increased compensation. That's why WIF will continue to advocate for the work of talented women directors like Sarah Polley's Women Talking, Gina Prince-Bythewood's The Woman King, Maria Schrader's She Said, Chinonye Chukwu's Till, and Charlotte Wells' Aftersun, to be included."
White men have dominated the Best Director category for the majority of the Academy Awards' 95-year history. Kathryn Bigelow was the first woman to win the category, winning for The Hurt Locker in 2010. A woman didn't win again until 2021 when Chloé Zhao won for Nomadland, marking the first time an Asian woman was nominated in the category and the first win for a woman of color. Jane Campion is the only woman to be nominated twice, once for The Piano in 1994 and again for The Power of the Dog in 2022. She won in 2022, marking the first time women won Best Director two years in a row. In total, only eight women have been nominated in the category.
To date, no Black filmmaker has ever won Best Director. Only six have been nominated, all of them men. Prince-Bythewood was a favorite for a nomination for her work on The Woman King this year, as was Chukwu for Till. The first Black person to be nominated for Best Director was John Singleton in 1991 for Boyz N the Hood. The most recent was Spike Lee in 2018 for BlacKkKlansman.
Jordan Peele's Nope is also a surprising shut-out, given the blockbuster's success and the past Oscars success of Peele's films. (He won Best Original Screenplay for Get Out in 2018 and was nominated for Best Director that year, along with Best Picture and Best Actor for Daniel Kaluuya.)
See reactions to the latest Oscars snubs below.
Where are the nominations in Best Director for the incredible women directors who directed fantastic films this year?

Make it make sense. #OscarNoms #Oscars2023 #OscarNominations2023

— Prasanna Ranganathan (@PRanganathan) January 24, 2023
Once again, we're having a conversation about women directors being shut out of the Oscars race.

— Jazz Tangcay (@jazzt) January 24, 2023
After two years of women winning a TERRIBLE disappointment and espcially this year!!!

— Teri Hart (@TeriHart) January 24, 2023
Oh. I just saw that not only did Gina Prince-Bythewood not get nominated for Best Director. Saint Omer and Alice Diop missed on Best International. The Academy really hates Black women directors. #Oscars2023

— Robert Daniels (@812filmreviews) January 24, 2023
No female directors nominated in best director category. Very sad when there were so many phenomenal films by women released this year.

— Natalie Korach (@NatalieKorach) January 24, 2023
#OscarNoms does the academy even know that women directors exist and do amazing work? This is infuriating

— Nora Poggi (she/her) (@NoraPoggi) January 24, 2023
No women directors nom'd. So next year? All directors of eligible films that are not cis-male should chip in (fundraise if needed) for full page FYC ads listing all their names in the trades since the studios are so bad at doing that job for them #Oscars #Oscar2023 #OscarNoms

— TVKel (@TVKel) January 24, 2023
Seven women in HISTORY have been nominated by the way, and ZERO Black women ever. The only thing about The Woman King that doesn't fit the academy's general nomination preferences is who was in the directors chair and who produced it. https://t.co/ycoLTx3PVM

— Rames Ali (@RamesAli) January 24, 2023
95th Annual Academy Awards, Sunday, March 12, 8/7c, ABC