When Manifest is finished, I doubt it'll be remembered for its villains.
On Manifest Season 4 Episode 15, Zimmer's motivations became more apparent, but her actions solidified her as a worse villain than Angelina.
How is that even possible?
Angelina's arrival in the Registry's compound was always going to lead to a significant shift and boy, everything we thought we knew was turned on its head throughout one of the best episodes of the series.
Zimmer has kept Saanvi around because she attempted to follow orders to keep people safe.
If you watch Manifest online, you know Zimmer has been transparent in her disdain for the survivors, and now that we know she's desperate to utilize the sapphire for her gain, it makes you wonder what the government has planned for the survivors.
Despite her feelings toward Angelina, Saanvi struggled to consider removing the sapphire before it was absorbed into Angelina's bloodstream.
It has been just over six hours since the river outside the 828 Detention Center turned blood red. Scientists are still struggling to confirm the cause. No one can say for sure why or how this mysterious and, frankly, terrifying sight came to be. But given the spate of outbreaks plaguing this 828 facility and its proximity to the river, is it crazy to think this is the fault of 828ers? After all, weren't these people responsible for the fissures that killed nearly 1,000 innocent civilians? Aren't some of them still roaming free? How much longer is our government gonna pretend this isn't happening…

Reporter
Honestly, I thought this development would kill Angelina to lure the survivors into a false sense of security, but realistically, Angelina will be around until the series finale at this stage.
Zimmer knows she can no longer control Saanvi, so transferring our favorite doctor/therapist/lifesaver elsewhere was the only way to allow Zimmer's plans to come to fruition.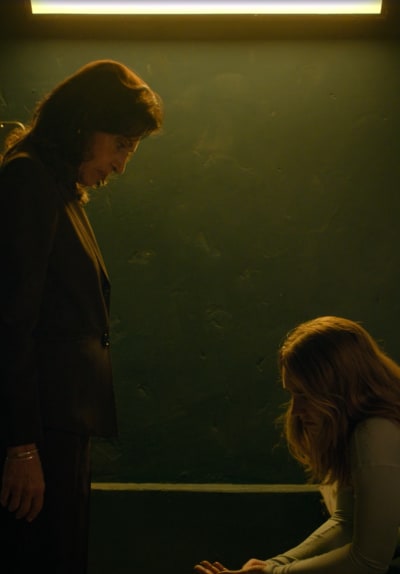 Ben's fateful decision to overdose Angelina with the serum wasn't surprising, but the far-reaching ramifications were. He was driven by his anger towards Angelina for what she put his family through.
Now, he has to live with the fact that he destroyed the Callings for everyone. Knowing that the Callings are gone from the passengers, their use to the Registry diminishes by the hour.
That, coupled with the fact that 828 hate is bellowing across the media like crazy, means that the public probably wouldn't care about the survivors simply disappearing. It's like Manifest Season 1 all over again!
Ben won't be able to bounce back from his decision any time soon, and something tells me there will be much more pain before we get any resolution.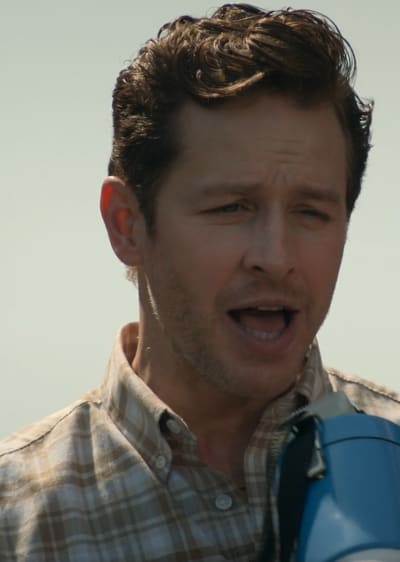 The revelation that the blood in the stream is red algae and that it means there's a volcano below New York, just waiting to erupt, adds another layer to Daly's short-lived return.
Were the plagues he brought a sign of what's to come for the rest of the world?
Ben: None of us are safe here. I know you think you have Angelina locked up, but she can still endanger the world. She's a threat! And she needs to be dealt with.
Zimmer: And what am I supposed to do? Say I believed you that Angelina has these powers. How do I handle her?
Ben: Use Saanvi's serum. Saanvi created that to eliminate Daly's plagues. Zimmer: Right. But it was based on pre-existing research. What exactly are you telling me?
Ben: Years ago, Saanvi created an antidote that eliminated her Callings. If it worked on real ones, it just might work on fake ones too. You have to at least try it.
So many questions. So few answers.
Eagan joining forces with Angelina again took me by surprise. He felt robbed of the sapphire, so of course, he was going to try to get some form of power in what little time he had left.
However, this team-up will be temporary because one of them will try to wipe out the other, which means that Eagan is a dead man walking.
He's turned his back on Ben, and I don't see any form of redemption on the horizon for him… unless he kills Angelina when she's going on to the next phase of her master plan.
I loved that Angelina thought she was an asset to the government, but they only wanted to steal her powers. Hey, Angelina, karma called, and it's for you!
Angelina's next moves will be interesting because they will decide whether she can find redemption before her time inevitably comes to a close.
Speaking of time coming to a close, did anyone else feel more pain for Michaela than Steve?
What happened to Steve was a big turning point for many storylines, but for Michaela, it only ignited her passion for being with her father as much as possible.
Zimmer: People see you as a threat. They'd be more than happy for me to get rid of your powers, lock you up forever.
Angelina: No. We have a deal.
Zimmer: We do. I stuck my neck out for you, but that means you need to deliver.
Angelina: I'm trying.
Zimmer: Try harder. I have everyone, from my city councilmen to the White House Chief of Staff, telling me I need to get the situation under control. So if those 12 passengers at large don't show up within the day, you're never getting out of here.
She lost out on the final years of her mother's life due to being on the plane for so many years, so the notion of history repeating was a bitter pill for her to swallow. She also just said a final goodbye to Zeke on Manifest Season 4 Episode 14.
While Michaela has put her life on the line for many of the survivors, she realizes here that being with her father in his final hours is more important than trying to prevent a death date that seems more likely by the day.
Having Jared help her every step of the way made her realize she still had feelings for him, but there was a slight chance she'll regret kissing Jared because she may have been caught up in the moment.
Jared was grinning from ear to ear that Michaela was open to having a romantic connection with him again, but it was a shame it came at the expense of Drea's happiness.
Jared's connection to Michaela has always shone brighter than his other relationships, and while Drea managed to play off witnessing the kiss well, it was evident she had some deeply rooted feelings for Jared.
I don't know whether Drea will ever speak up about those feelings, but my heart broke when she reminisced about her time with Jared.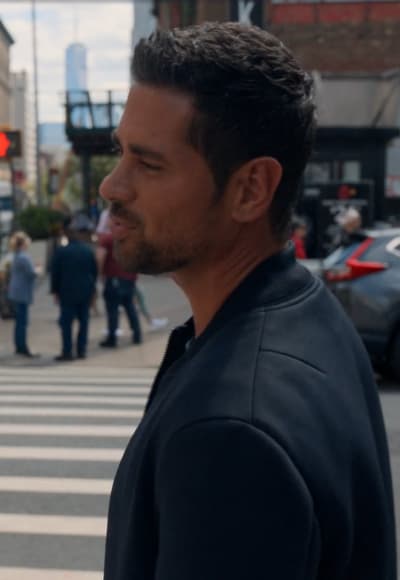 Hopefully, if the show is putting Michaela and Jared back together, it's for good this time. The constant whiplash is infuriating.
What did you think of that volcanic revelation?
Are you surprised Michaela and Jared are back together?
What's your take on Zimmer wanting the sapphire for herself?
How long will Eagan and Angelina be working together?
Hit the comments.
Manifest is now streaming on Netflix.
Paul Dailly is the Associate Editor for TV Fanatic. Follow him on Twitter.