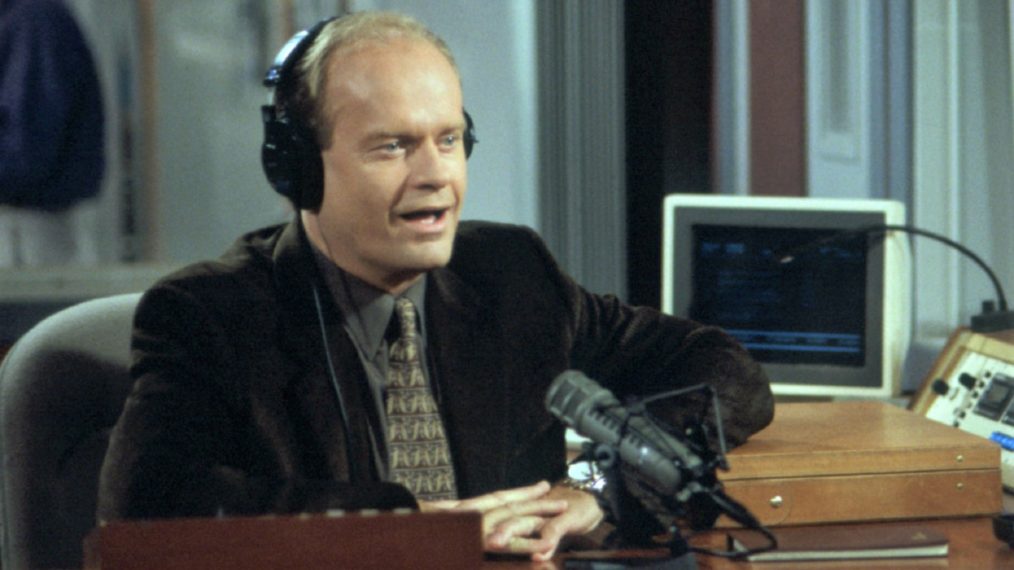 The doctor is in — almost, anyway. Frasier is returning to our TV screens on October 12, thanks to a Paramount+ revival. And just ahead of that, we have a birthday to celebrate: The original Frasier is turning 30 years old.
Debuting on September 16, 1993, NBC's Cheers spinoff continued the story of psychiatrist Frasier Crane (Kelsey Grammar) as he moves back to Seattle, where he and younger brother Niles (David Hyde Pierce) care for their retired father, Martin (John Mahoney), with an assist from live-in aid Daphne (Jane Leeves). Frasier settles into his life in the Emerald City, where he hosts a KACL radio show, produced by his pal Roz (Peri Gilpin).
Frasier aired 11 seasons and landed a record-breaking number of Emmy Awards, including five consecutive Outstanding Comedy Series wins. And if you want to watch the best of the best, scope out the 10 episodes below, which IMDb voters have ranked as the best of the series.
10. Season 5, Episode 3: "Halloween"
As Niles throws a costume party for the Library Association, with guests masquerading as literary characters, Roz has big news for Frasier: She thinks she's pregnant. "[It's] an absolute hoot when Niles suspects that Daphne is the pregnant one and Frasier is the father," one IMDb user wrote. "It is outrageous and hilarious. One of the best ever."
9. Season 7, Episode 15: "Out with Dad"
Frasier's new love interest, Emily (Marg Helgenberger), gets the wrong idea about Martin's sexuality and tries to set him up with her uncle Edward (Brian Bedford). "Cue lots of hilarity, Frasier-style," an IMDb user raved. "It's episodes like this one that remind fans why they started following Frasier in the first place. Top-notch episode from a top-notch sitcom."
8. Season 7, Episode 24: "Something Borrowed, Someone Blue: Part 2"
Daphne has more than just wedding jitters on the eve of her nuptials in this Season 7 finale: Donny (Saul Rubinek), the man she's about to marry, is not Niles, the man she loves. "The writing is sharp, there's heart, there's humor, and the characters still feel like the ones I met in the pilot," one fan opined.
7. Season 11, Episode 24: "Goodnight, Seattle: Part 2"
In the series finale, Frasier takes to the airwaves one last time, Roz gets a promotion to station manager, Martin marries Ronee (Wendie Malick), and Niles and Daphne welcome son David. "I'm beyond impressed," a fan said. "That might be the greatest single finale episode of any TV show I've ever watched."
6. Season 3, Episode 13: "Moon Dance"
In Grammer's directorial debut — one featuring Jodie Foster as an advice-seeking caller — Niles dives back into the dating scene and takes Daphne to a country club dance. "This episode is bursting with humor and touching scenes, making it one of the perfect episodes of the series," an IMDb user wrote.
5. Season 11, Episode 3: "The Doctor Is Out"
Seattle Opera conductor Alistair Burke (Patrick Stewart) takes a special interest in Frasier and introduces the psychiatrist to a glamorous lifestyle that suits him just fine. "This one was consistently laugh-out-loud funny throughout, with so many memorable lines and moments along the way," one fan declared.
4. Season 4, Episode 1: "The Two Mrs. Cranes"
In the Season 4 premiere, Daphne pretends to be married to Niles when ex-fiancé Clive (Scott Atkinson) comes into town with hopes of a romantic reunion. "Seriously one of the funniest episodes of Frasier ever," said a devotee of the show. "Care not about Clive's funky accent. Doesn't matter. The writing is stellar."
3. Season 2, Episode 3: "The Matchmaker"
Frasier plots to set Daphne up with the new station manager, Tom (Eric Lutes), not realizing that his new boss is gay and under the assumption Frasier wants him. "This is one of the funniest episodes of the show's first few years," one fan wrote. "Best of all, none of the jokes are at Tom's expense. Indeed, Tom is striking in how little of a gay stereotype he actually is."
2. Season 4, Episode 18: "Ham Radio"
As Niles predicted, Frasier's live radio drama project — a celebration of the station's 50th anniversary — goes horribly awry. "Wonderful farce, with lots of genuinely big laughs," an IMDB user said. "This should make just about anybody's top list of great TV half-hours."
1. Season 5, Episode 14: "The Ski Lodge"
During a getaway weekend, Daphne's swimsuit-model friend Annie (Cynthia LaMontagne) catches Frasier's eye, but she only has eyes for Niles. "There isn't a wasted line of dialogue," observed one fan. "One of the greatest comedy episodes of all time. You don't need to know anything about the series; completely self-contained, and hilarious."
Frasier, Series Premiere, Thursday, October 12, Paramount+