Each night of the America's Got Talent Semi-Finals seems to come with challenges. No one is quite sure what was going on with Howie Mandel, but his actions were a bit on the feisty side on Tuesday night during the performances. Throughout the evening, he pushed his fellow judges while they were each faced with the difficult decision of who would stay.
Tensions Run High
At this stage of the competition, things are always tense. While the performers face their nerves and prepare for the acts they will deliver, it is also hard on the judges. All and all, the burden of deciding who will move to the finals primarily rests on the four-person panel. Currently, the judges are Simon Cowell, Howie Mandel, Sofia Vergara, and Heidi Klum. After the semi-finals, eleven talented acts have the chance to compete for the overall winner of the show next week. So, it is understandable that tensions were running high. However, everyone could see that Howie Mandel was being a little extra disruptive during the Tuesday night show.
The instant save is OPEN NOW! #AGT pic.twitter.com/Hi2ltYnSUw

— Howie Mandel (@howiemandel) September 21, 2023
Fans Upset Over AGT
But not all the decisions rested on the judges. America was also able to vote and use the Instant Save voting option. So, four acts selected by the judges from the previously eliminated performances were revealed. America got to vote, but they were very upset with the outcome. Partly due to the process of voting.
Fans have also been commenting about the "stale" panel of judges. It has led to chatter online about who they could live without on the show. Many think that the judges are being too "soft." Part of Howie Mandel's oneriness during the show was blamed on Heidi Klum not saying what she truly thinks as a judge.
Howie Mandel Pushes The Other Judges
During Lachuné's performance of Tina Turner's "The Best," she received standing ovations from three of the four judges. You guessed it, Howie Mandel remained seated. While the other three judges poured over her kindness and talent, Mandel had a different opinion. He said that he didn't "personally love" her rendition. To which Simon Cowell presses his buzzer in objection. But Howie reiterated, "Only two can go through and I don't think this is enough to get you to the finals." And with this Sofia Vergara buzzed as well.
And then during Trailer Flower's duet, Howie Mandel sneakily presses Heidi Klum's button. Terry Crews calls him out on it. And then, it causes a big disturbance in the show. He blames Heidi for not acting on what she really thinks. Eventually, Simon Cowell erupts with his opinion about Howie and what the producers are allowing.
Fans React To Howie Mandel's Behavior
While viewers watched at home it was apparent he was being antagonistic. Many made comments on social media about it. Ranging from perceiving him hitting the buzzer as rude during the semi-finals to others wondering if he was just in a bad mood. Someone said he woke up on the wrong side of the bed. And others demanded his job or at least a suspension.
What do you think about all the controversy this week? Who do you think will win it all next week? Should something happen in response to Howie Mandel's actions? Send us your opinions in the comments.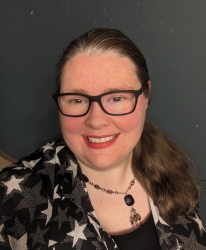 Latest posts by Bonnie Kaiser-Gambill
(see all)