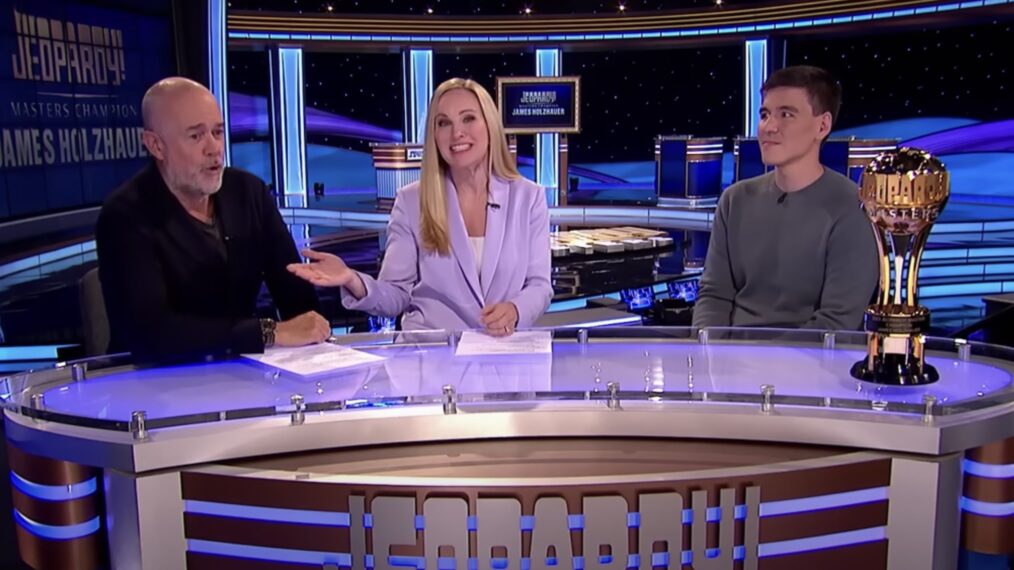 James Holzhauer is still on a high after winning the Jeopardy! Masters tournament this past Wednesday (May 24), and he is now opening up about his success on the show.
"I knew coming in this was going to be an incredibly high-level competition, but even I was blown away by the great performances out there, especially Mattea [Roach] in the final," Holzhauer told producers Michael Davies and Sarah Whitcomb Foss on the Inside Jeopardy! podcast.
Holzhauer claimed the $500,000 grand prize on Wednesday, but the final was close, with Holzhauer clinching the victory with 43,795 over Roach's 41,685. Matt Amodio finished in third place with 15,200.
"For [Roach] to put up the performance they did with all that's on Mattea's mind right now is just an incredible achievement," Holzhauer continued, referring to the news of Roach's father passing away during filming.
Foss asked Holzhauer how he's changed since the last time he appeared on Jeopardy!, during 2020's Greatest of All Time tournament. He said, "I think the thing I'm better at really is making good TV, something about being involved in a TV production; you learn what people tune in to watch."
"I kind of like the idea of playing this villainous character that's the big bad that everyone has to take down," he continued. "And they really stepped up; I'll say that."
The producers also brought up the banter between Holzhauer and host Ken Jennings, who previously defeated Holzhauer in the GOAT tournament. "Don't you have another impartial host you could have chosen for this?" Holzhauer quipped, referring to fellow Jeopardy! host Mayim Bialik.
"I think we made great television," he admitted. "Ken and I are very different people, but we both have the same killer instinct on the Jeopardy! stage."
Ken Jennings also had high praise for his former opponent, telling USA Today, "[Holzhauer] seems to be getting better. He looked as strong in this tournament as I've ever seen him play, even though he was playing the best and the brightest."
"I have to assume he's doing the work," Jennings added. "It's like any other game or sport. Being good at Jeopardy! takes training, and I think for James, making himself into the best Jeopardy! player he can be is kind of his day job."
Jennings also talked about the various behind-the-scenes dramas that took place during filming. "There were three delays. Andrew [He's] wife went into labor during a game. Then I got a COVID-positive test that never actually seemed to turn into COVID. I don't think I actually had COVID, but we had to delay a full week. And then, worst of all, Mattea's dad passed away while they were on set," he revealed.
"We were just determined to finish this thing," he continued. "But that was just unprecedented in the annals of Jeopardy! to have that kind of real-life drama going on. We prefer to keep the drama to the Daily Doubles."
Holzhauer was also full of praise for his fellow Masters contestants, telling Davies and Foss that he "could have easily been out before the semi-finals" if he didn't have his "buzzer mojo" going. "And things were going smooth before prime-time Mattea showed up," he added.
The Masters tournament will return next year, where Holzhauer will have to defend his trophy, and, as runners-up, Roach and Amodio will be invited back too. But there might be some changes to the format, at least according to showrunner Davies.
"We're gonna go back and look at it and think about how we can improve Masters for next year," Davies said. "Perhaps increase the prize money, increase the charitable donations, and perhaps make a few more episodes."
As for what's next for Holzhauer, he said, "I'm not gonna look at any trivia stuff for a long time, to be honest with you. But when I do, I know I'll need to be loaded for bear."
Maybe he should take a well-earned break, like Roach, who revealed on Twitter that they will be turning their attention to "other pressing matters" like "basking in the sun on my porch, finally going to Portugal, hanging out with my mom."