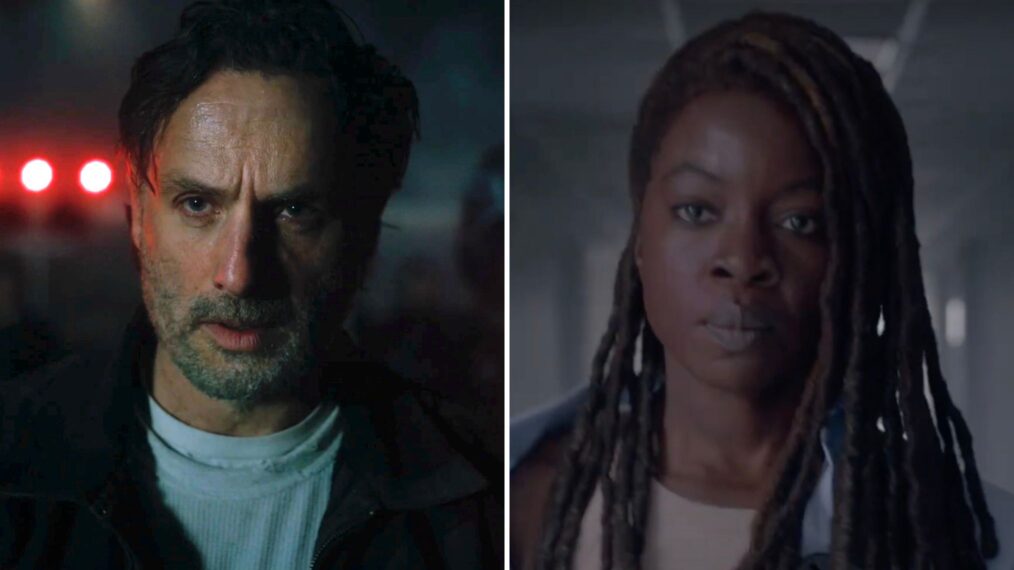 "This is some crazy love," Danai Gurira says in the new teaser for the upcoming Walking Dead spinoff about Michonne and Rick (Andrew Lincoln), The Ones Who Live.
During the series finale of Fear the Walking Dead, AMC announced that the next series in this universe will premiere on Sunday, February 25, 2024. (It will be available both on AMC and to stream on AMC+.) A new The Walking Dead: The Ones Who Live teaser, with hints at what's to come from the leads, also dropped.
"People are going, where have you gone?" Lincoln says. "Our ambition is to have some answers." Gurira promises "a really exciting story to tell," pointing out, "These two people are so powerful, and together, it's insane. This is some crazy love." Watch the video above for footage from the new series, both of Rick and Michonne (separate) and the new characters joining them.
"The Walking Dead: The Ones Who Live presents an epic love story of two characters changed by a changed world. Kept apart by distance. By an unstoppable power. By the ghosts of who they were," according to AMC. "Rick and Michonne are thrown into another world, built on a war against the dead… And ultimately, a war against the living. Can they find each other and who they were in a place and situation unlike any they've ever known before? Are they enemies? Lovers? Victims? Victors? Without each other, are they even alive — or will they find that they, too, are the Walking Dead?"
The newest Walking Dead spinoff is executive produced by showrunner Scott M. Gimple, Lincoln, Gurira, Denise Huth, and Brian Bockrath.
The original Walking Dead, which introduced both Lincoln and Gurira as Rick and Michonne, aired for 11 seasons on AMC. There have been quite a few spinoffs already, with ones focused on other TWD characters after the finale — Dead City with Maggie (Lauren Cohan) and Negan (Jeffrey Dean Morgan) and Daryl Dixon starring Norman Reedus, with Melissa McBride now joining him for The Book of Carol — both renewed for second seasons.
The Walking Dead: The Ones Who Live, Series Premiere, Sunday, February 25, 2024, AMC and AMC+