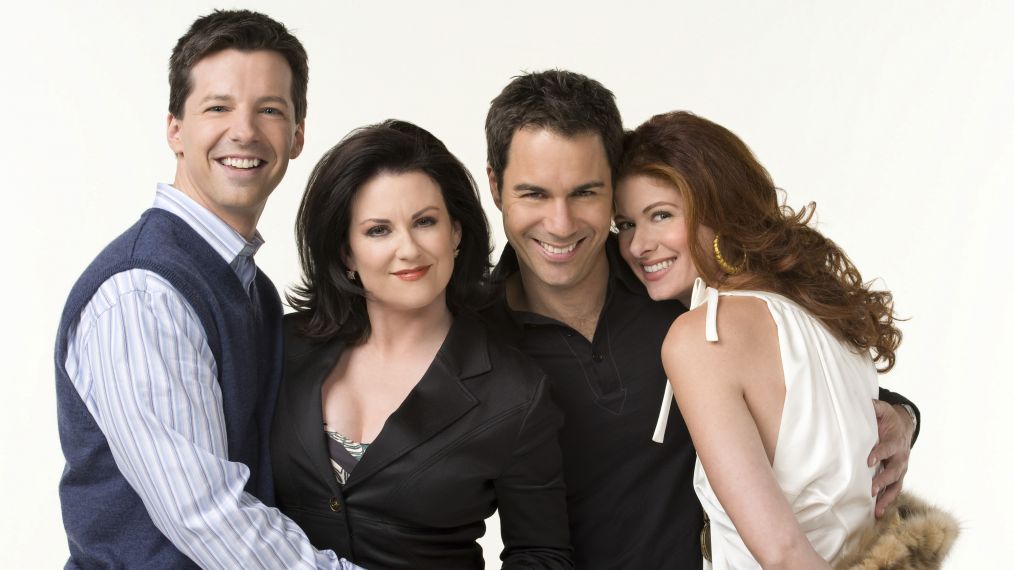 One small step for NBC made one giant leap for gay representation 25 years ago, when Will & Grace debuted on September 21, 1998. Created by David Kohan and Max Mutchnick, the sitcom starred Eric McCormack as gay lawyer Will Truman and Debra Messing as straight interior designer Grace Adler, Will's longtime best friend and roommate.
But the scene-stealers of the show, arguably, were Sean Hayes as Will's high-spirited friend Jack McFarland and Megan Mullally as Grace's very rich, very boozy assistant, Karen Walker.
Will & Grace aired eight seasons in its original run — and returned for three more at the end of the 2010s — and "did more to educate the American public" on gay rights "than almost anything anybody has ever done," as Joe Biden once said on CNN.
But the show was also fantastically funny, as the following clips show. A quarter-century after Will & Grace's debut, these scenes still have us in stitches.
Jack meets Karen
The first time Jack and Karen actually lay eyes on each other, she calls him "honey" and he calls her a "little hottie," and they cement their friendship with a belly-bump. Mullally took an instant liking to Hayes when they met on set, too. "I just immediately was like, 'Oh my god, I love him,'" she told People in 2017.
"Just Jack" claps back
Will and Grace aren't the most attentive audience members at Jack's one-man cabaret show. "Hey, hey, it's not The Will and Grace Show — it's called Just Jack!" he snaps. (By the way, Hayes and McCormack now have a Will & Grace rewatch podcast called Just Jack & Will.)
Grace springs a leak
In the aptly-titled Season 2 episode "Das Boob," Grace suffers a wardrobe malfunction when her "hydra-bra" — "water-filled for extra perkiness" — goes haywire. "To me, that was the most broad we were … in the eight years [of the original run], and I felt like it was kind of a wink to Lucy and Desi," Messing said in an interview about the show. "And it just was a perfect comic set piece."
Will kisses Jack on Today
In Season 2's "Acting Out," Will takes matters into his own hands to get a same-sex kiss on network television. "That was special for lots of reasons," McCormack told PeopleTV in 2020. "Obviously, it was a great, big, gay kiss on network TV. And the fact that it was so meta, that it wasn't just two men kissing. It was Will and Jack, on purpose, kissing each other in order to make a point."
Madonna guest stars as Karen's roommate
The Material Girl herself showed up in Season 5, guest starring as a woman Karen moves in with to experience "real life" outside of her one-percenter norm. Mullally told Jimmy Kimmel in 2017 that Madonna "didn't necessarily know" the real names of the Will & Grace cast members. "Because why should she? Who cares?" the actor added. "Some of the cast were really offended … and I was like, 'Who cares? Madonna's doing our show! It doesn't matter.'"
Jack meets Cher
Speaking of pop-star cameos, Jack meets his idol, Cher, in Season 3's "Gypsies, Tramps and Weed"… and he mistakes her for a drag queen. "She's the best," Hayes told People in 2020, recalling his work with the pop star. "She's super cool, super down to earth, really fun and funny. … You feel [like], 'OK, I could hang out with this girl for a long time.' She's very, very cool."
Jack meets his son
In the Season 3 finale, Jack meets the result of a sperm bank donation he made years prior: his son Elliot, played by Michael Angarano. "I think being the straight man is one of the most important roles in comedy," Angarano told the Tampa Bay Times in 2002, when he was just 14 years old. "Even that takes timing. You have to know what you're doing."
Beverly Leslie takes a homophobic stand
Will and Jack are aghast when "board member of the Shelter Island Republican Party" Beverly Leslie — a frequent antagonist, played by Leslie Jordan — bans same-sex dancing at a country club in Season 7's "Dance Cards & Greeting Cards." After Jordan's death last year, Mullally wrote on Instagram, "Leslie was flawlessly funny, a virtuoso of comedy. His timing, his delivery, all apparently effortless. You can't get any better than that."
Debra Messing and Sean Hayes break character
During the live Season 8 premiere, Messing and Hayes kept cracking each other up — especially after Jack shows Grace the result of a theatrical mishap. (We find their giggling hilarious; director James Burrows, apparently, did not.)