Sweet Magnolias season 3 is coming to Netflix globally in July 2023. Here's our preview of everything we know about the next season of Netflix's Sweet Magnolias, including what we can expect, how season 2 of the show performed, new cast members, and more.
The series is based on the novel by Sherryl Woods, which first premiered on Netflix in May 2020, with its second season dropping in 2022.
The feel-good series (compared to Firefly Lane, Virgin River, and Ginny & Georgia) is about lifelong friends Maddie, Helen, and Dana Sue lifting each other up as they juggle relationships, family, and careers in the small, Southern town of Serenity.
Before we dive into our big preview for Season 3 of Sweet Magnolias, let's kick off with the brand-new trailer for the forthcoming season:
---
Did Netflix Renew Sweet Magnolias for season 3?
Official Renewal Status: Officially Renewed in May 2022
Two months after season 2 dropped, we were still yet to hear of an official renewal or cancelation, but in early May, we got the thumbs up more episodes were on the way.
Season 3 of Sweet Magnolias is again confirmed to be 10 episodes long.
The Sweet Magnolias Writers' Twitter page tweeting followed the confirmation of renewal:
"We're going back to Serenity, y'all! We are so thrilled to share we have a Season 3 of Sweet Magnolias. Can't wait to welcome y'all home."
---
When will Season 3 of Sweet Magnolias release on Netflix?
All ten episodes of season 3 will arrive on Netflix globally on July 20th, 2023, at 12:01 AM PST.
---
When and where did Sweet Magnolias season 3 film?
Filming on the new third season is again taking place in Covington and Atlanta in the state of Georgia in the United States.
In early June 2022, the team behind the show was scouting for new locations. In an Instagram post, Sheryl Anderson stated:
"Thrilled to be plotting and planning Season 3, with friends, old and new!!!"
On July 1st, the show's star, Joanna Garcia Swisher, posted on Instagram that she had dyed her hair again to reprise her role in the third season, suggesting that filming is imminent.
In the post, Swisher said:
"'Maddie's' lob is back 💇🏻‍♀️ Could only mean one thing… #sweetmagnoliasnetflix #season3"
Filming did get underway in July 2022, with the official Sweet Magnolias page posting that they'd begun filming on July 18th, 2022. Their post included the following caption:
"'Shall we begin?' So happy to be welcoming everyone home to Serenity for day one of filming Season 3 of Sweet Magnolias!"
On the announcement that the third season is in production, Sheryl J. Anderson said:
"It's a joy, privilege, and blessing to be back in Serenity."
Norman Buckley, who has directed numerous episodes of the show, is expected to return to the director's chair, according to numerous posts. Buckley also continues to serve as the show's co-executive producer.
On September 3rd, 2022, Sheryl J Anderson posted that they were halfway through filming on Instagram, where the showrunner thanked a gelato stall, saying:
"Many thanks to @dulceartisangelato for helping us celebrate Halfway Day!!! Hard to believe we've shot half of Season 3. Time flies when you're working with people you love!!!"
Production was confirmed to have wrapped up on October 21st, 2022.
Sheryl J. Anderson posted to confirm the wrap saying in a Tweet:
"We finished filming Season 3 last night. It's been a joy to spend another season in Serenity, working with, laughing with, and learning from amazing artists in the cast and crew. Our community made something beautiful for you. I'm grateful to them and excited for you to see it!!!"
The Sweet Magnolias Writers' Room also posted to confirm filming had wrapped.
Anderson has posted numerous behind-the-scenes photos throughout filming, including one on August 27th, where we see night shooting at a basketball court.
Given that it takes anywhere between 6-9 months for the show to finish post-production, we're expecting season 3 of Sweet Magnolias to arrive in Spring 2023, but it could be as late as Summer/Fall 2023.
A press release from October 2022 states the show is set to return in Spring 2023.
---
Sweet Magnolias Season 3 Writers, Directors, and Episode Titles
Where available, we've compiled a list of who is writing and directing and the episode titles for season 3 of Sweet Magnolias. With thanks to IMDb and the WGA.
Season 3 of Sweet Magnolias will once again consist of 10 episodes.
Episode 301 – Written by: Sheryl J. Anderson – Directed by: Norman Buckley
Episode 302 – Written by: Caron Tschampion – Directed by: Norman Buckley
Episode 303 – Searchers – Written by: Anthony Epling
Episode 304 – Be Bold – Written by: Barret Helms
Episode 305 – Written by: Shani Am. Moore
Episode 306 – Teleplay by: Caron Tschampion – Story by: Anthony Epling
Episode 307 – Written by: Anthony Epling
Episode 308 – Beat Me at My Own Game – Written by: Shani Am. Moore
Episode 309 – Written by: Barret Helms
Episode 310 – Written by: Sheryl J. Anderson & Sara Jumel – Directed by Mary Lou Belli
We also know what the 10 episode title names will be (albeit not in order just yet):
A Game of Telephone
And a Star to Steer Her By
Be Bold
Beat Me at My Own Game
Meaning to Tell You
Meet Me Where I Am
On This Foundation
Save My Place
Somebody I'm Longing to See
The Searchers
Joy T. Lane is expected to direct in season 3.
---
How well did Sweet Magnolias season 2 perform on Netflix?
After a strong start, Sweet Magnolias quickly tailed off in viewing according to Netflix's top 10 data.
The arrival of season 2 also saw an uptick in viewership to the first season. Season 1 recorded 21.64 million hours viewed between February 6th and February 13th.
Between January 30th and March 6th, 2022 (the first 30 days on the platform), the series clocked up 161,300,000 hours viewed globally.
Here's how the viewership for Sweet Magnolias looks from week to week:
| Week Period | Hours Viewed(M) | Rank | Week in Top 10 |
| --- | --- | --- | --- |
| January 30th, 2022 to February 6th, 2022 | 43,000,000 | 5 | 1 |
| February 6th, 2022 to February 13th, 2022 | 58,150,000 (+35%) | 2 | 2 |
| February 13th, 2022 to February 20th, 2022 | 29,760,000 (-49%) | 3 | 3 |
| February 20th, 2022 to February 27th, 2022 | 18,610,000 (-37%) | 6 | 4 |
| February 27th, 2022 to March 6th, 2022 | 11,780,000 (-37%) | 9 | 5 |
If we compare the first two weeks to Virgin River season 3, given that they're very similar in genre, Sweet Magnolias lags a little but follows the same trend pattern.
| Week Period | Hours Viewed(M) |
| --- | --- |
| July 4th, 2021 to July 11th, 2021 | 62,580,000 |
| July 11th, 2021 to July 18th, 2021 | 87,270,000 (+39%) |
| July 18th, 2021 to July 25th, 2021 | 44,890,000 (-49%) |
| July 25th, 2021 to August 1st, 2021 | 28,320,000 (-37%) |
Nielsen's top 10 data can provide us with a look into how well the show performs in the United States. Between January 31st through March 6th, the show racked up 4,629 million minutes. 
| Week Period | Rank That Week | Minutes (Millions) |
| --- | --- | --- |
| 01/31 – 02/06 | 3 | 1320 |
| 02/07 – 02/13 | 2 | 1556 |
| 02/14 – 02/20 | 5 | 898 |
| 02/21 – 02/27 | 8 | 526 |
| 02/28 – 03/06 | 9 | 329 |
We can also look at raw Netflix top 10 data to see where the series is performing well.
Thanks to FlixPatrol, we can see a heat map of where the show is performing the best. The show performs best in regions like the United States, Canada, Australia, the United Kingdom, Denmark, Ireland, Sweden, and South Africa.
---
What to Expect from Sweet Magnolias Season 3
Before we get into our predictions, let's begin with the official synopsis for season 3:
"Following the brawl at Sullivan's, Maddie wrestles with the best way to help Cal and works to clear her own emotional path. Helen faces difficult decisions about the men in her life. And Dana Sue searches for a way to use Miss Frances' check to help the community, without upending her family. The identity of the tire slasher sends shockwaves through Serenity, the recall causes unexpected consequences, and there are romantic surprises in every generation. Throughout the season, the ladies tackle these problems — and all the complications they cause — with their trademark warmth, humor, and devotion to each other and those they love. And margaritas."
Season 2 ends with plenty of cliffhangers, continuing the tradition over from season 1.
Season 2 ended with Maddie, Helen, and Dana Sue mourning the passing of Miss Frances (Cindy Karr). Following the funeral, we see an unexpected event with both a proposal and a confrontation in the restaurant, leading to Cal being escorted away in cuffs. We also know that someone returned after the main trio saw footage of tires slashed on Sullivan's delivery van.
Helen (played by Heather Headley) had a rough ride in season 2 with several traumatic events, but the season ended with her being proposed to by Ryan. Season 3 will likely kick off with the decision she makes.
In an interview with TVLine, Sheryl J. Anderson answered many of the burning questions after the conclusion of season 2.
When asked who slashed Dana Sue's tires, Anderson said, "I will just say she has a past in common with our ladies and some other folks in town," adding, "She's been away for a while, but she has come back with an agenda. She has come home to settle some scores."
Anderson also said we could "potentially" see the return of Victoria and implied we could see other "troublemakers" return in the future too. Dana Sue's relationship was addressed, too, where Anderson said that three-way dance will likely continue to be complicated.
Speaking to Glamor, Anderson said there isn't one sole question heading into season 3 compared to season 2 other than the big one being about a renewal, saying, "I hope the main question that everybody has at the end of season two is: Are they going to get a season three?"
In an interview with Rama's Screen in December 2022, JoAnna Garcia Swisher teased the upcoming season saying, "I think it's going to be a really interesting season. It's going to have all the things you love about Sweet Magnolias, but it's also going to dive a bit deeper."
Responding to a question about the future of Cal and Maddie's relationship, Swisher responded, "That moment really sets off a journey individually for them that is really important and essential for them having a chance of being together."
---
Who will star in Sweet Magnolias Season 3?
Let's begin with the returning cast members for Sweet Magnolias season 3:
JoAnna Garcia Swisher (Maddie Townsend)
Brooke Elliott (Dana Sue Sullivan)
Heather Headley (Helen Decatur)
Chris Klein (Bill Townsend)
Jamie Lynn Spears (Noreen Fitzgibbons)
Justin Bruening (Cal Maddox)
Carson Rowland (Tyler Townsend)
Logan Allen (Kyle Townsend)
Chris Medlin (Isaac Downey)
Anneliese Judge (Annie Sullivan)
Brandon Quinn (Ronnie Sullivan)
Dion Johnstone (Erik Whitley)
We've got confirmation of several new faces you'll see throughout Sweet Magnolias season 3:
Rachel Markarian (All American, Tales of the Walking Dead, Bandit, Top Gun: Maverick) will be playing Wendy
Jon Briddell (Doom Patrol) will guest star as Jimmy.
Jermaine Rivers (The Gifted, Dynasty) will have a recurring role as Charles Perkins.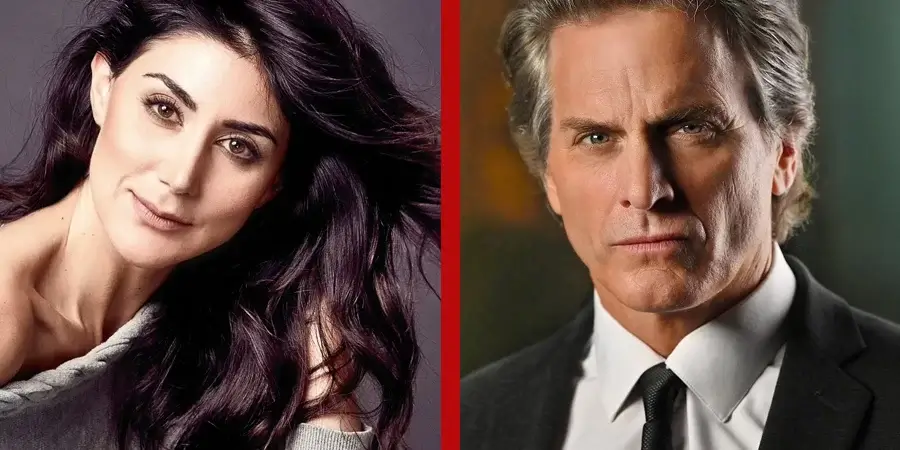 Gail Everett-Smith (Till, The Best Man: The Final Chapters) as Rachel
---
Are you looking forward to watching season 3 of Sweet Magnolias on Netflix? Let us know in the comments down below.