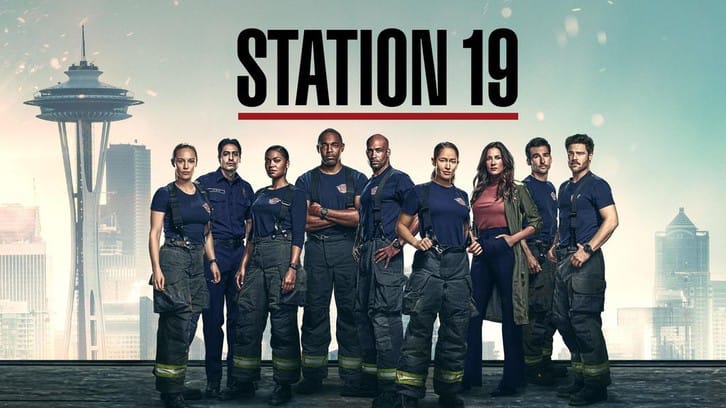 It is a training day, but the simulation goes dangerously wrong. Maya tries to make amends with Carina on her first day back, but that does not go as planned either. Jack's sister shows up at the fire station, and people suspect that Beckett is falling off the wagon again.
The team seemed excited about their training day with firehouse 88. The training consisted of three elements based on their day-to-day job. First up; response time. The team from 19 won this round since they arrived first at the scene. The second simulation was a contained fire and rescue. 19 is confident they won this round, but 88 beat them by two minutes. In between the simulation, there was friendly banter between both teams and even betting on who was to win. Lieutenant Cooper from 88 told Andy and Vic that Beckett was the best captain they ever had, which surprises the women.
The third and last round of the simulation was where it went wrong. A similar situation as the second round, set up by Cooper and Beckett. Both men seemed to be good friends. The first team to rescue the dummy would win. Upon calling in that they located the dummy, something exploded. Both Cooper and his probie wept off their feet. Now both teams worked together to put the fire out and get Cooper to the hospital. Beckett seemed in shock and put Andy in charge so he could follow the ambulance to the hospital.
Back at the station, everyone wondered if someone seriously messed up or if it was a freak accident. Beckett and warren returned later to the firehouse, coming from the hospital. Cooper had died in the hospital. Ruiz lost it against Beckett, calling him out on drinking again. Later Andy confided in Sullivan that she was afraid they all were going to fall off the cliff. He told her he thought Beckett might be falling off the wagon and that Beckett was drinking again because he was so defensive.
Maya is back at work and cleared for desk duty. She got to spend the day with Jack, who also was on desk duty. Their day quickly became quite eventful when Jack's sister turned up. She and a friend had been in a motorcycle accident, both women had what seemed like mostly superficial wounds. Jack and Maya started treating the women but were trying to convince them they needed to go to the hospital since Jack's sister might have a broken ankle. They kept refusing because they used drugs before riding the motorcycle, thinking it had worn off by then.
Jack is pissed off and starts lecturing his sister, and they had words with each other. When the woman got ready to leave, the friend started getting worse and eventually fainted. They suspect she might have internal bleeding and needs to go to the hospital. In the ambulance, Jack tries to comfort his sister because he knows how he can freak out in his head. This seems to reconnect them again. When his sister returns to the firehouse after being discharged from the hospital they decide it might be good to start over.
Earlier Maya managed to convince Jack to let her run an errand. She had baked a lasagne for Carina, to bribe her into forgiving her. Carina still gives Maya the cold shoulder when she is at her office. After Maya leaves Bailey tells Carina to take a piece of lasagna because it is 'one of those days' and it might make her feel better. Also, Bailey needs her in a better mood because she wants her to volunteer more hours at her clinic at Grey Sloan Memorial. Meaning Carina needs to cut down her volunteer hours at the fire station. Those hours feel like the only connection Carina has left to Maya.
When Bailey returns to Carina's office later hoping she can convince her to take on more hours at the clinic, Carina tells her she couldn't enjoy the lasagna and gets emotional. Bailey being Bailey gives Carina a pep-talk about some struggles she and Warren had to overcome and that she and Maya will do as well. Suddenly Carina doesn't feel good, blaming the lasagna, and runs out to puke.
After being called by Bailey, Maya shows up at Carina's door. Carina is still not wanting to see Maya. Eventually, Carina gives in since she is too sick to keep up the fight. Maya was being stubborn and not leaving until she knew she was okay. Carina might be unreasonable, but Maya did hurt her pretty badly, and being sick makes her even more emotional. Carina kept puking non-stop. Maya tried to comfort her as much as she could, hooked her up to an IV to prevent dehydration, and took her into her arms until Jack interrupted by telling her they needed to go. Carina knew she had to go, but Maya was afraid that when she walked out didn't know when she would see Carina again. But carina told her she would check in in a few hours and tell her how she was doing.
Travis had the day off to do radio interviews for his campaign, which was a lot. At first, he felt unsure but when he started talking about his work and passion, he did well. Eli had to interrupt and direct him a few times and only once unplugged the microphone because Travis had to stop talking. During his last interview, he got asked about the polls and what he thought about him closing the gap between him and Dixon, which made him at a loss for words.
When Travis heard what had happened that day, he came in to be with his team. Also, he got emotional when he realized he might have to turn in his firefighting uniform for another since he has a chance of winning the election.
Eli also visited the firehouse, not for Travis but for Andy. He told her he would be there for her. In response, she kissed him.