It's two years after CBS canceled All Rise the first time, and here we are again. It's All Rise's series finale; this time, it's for keeps.
All Rise holds a dear place in my heart. I've cared about the cases and the relationships in the series. I was so excited to watch Mark and Amy get married on All Rise Season 3 Episode 20.
I'm unsure if OWN knew that All Rise 3B was the final season initially, but these past ten episodes have been fantastic, and this was the ideal send-off.
Before we dive into the wedding details, let's discuss the final case. As much as I adored Emily Lopez and her helping lost souls, I would have preferred focusing on Mark and Amy's wedding and dealing with the Russians.
However, Emily represented Nori Byrd, who was accused of murdering her husband with a bloody knife. She passed out drunk and had no memory of the event, and there was no body.
The circumstantial evidence was damming, though. Emily knew that, and DA Berger knew it, too.
Emily wanted to help, though, as she heard that Ms. Byrd was a battered wife. I almost thought they'd use the battered wife syndrome as a defense since it appeared she had a motive.
She found a respite in a new relationship and needed a release. Luckily, they didn't need that because Emily hit the jackpot. She and Luke make such a good team searching for info.
After learning that Archer Byrd specialized in crypto, Luke's expert found the funds and Archer in Mexico. He framed his wife for his murder, a rotten move from an abusive man. What a case to close on.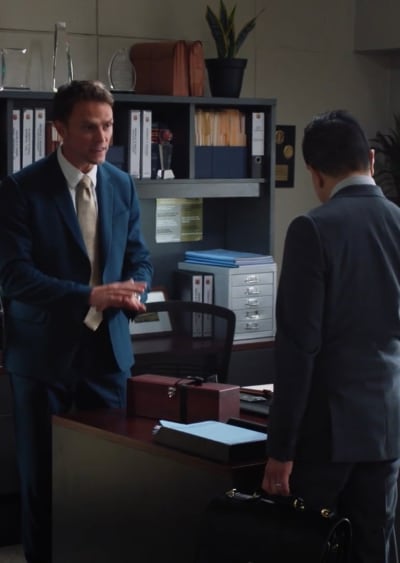 Wilson Bethel was the episode MVP, playing Mark, who was so layered and frightened about the Costa case. Even though he tried to hide it, DA Bravo suspected something was off and brought in DA Choi to manage the case.
Carrying a secret that affects your entire family only makes you snap, which is ultimately what Mark did when he learned Vic was going to testify for the prosecution. The Callen men have had a challenging relationship, but underneath, they still love each other.
It made me tear up to hear that Vic wanted to testify and go into witness protection so Mark would be proud of him for once. Vic knew he screwed up as a dad and always brought drama.
Just once I wanted to look into your eyes and see how proud you were of me. This is my shot, kid, to be that hero I always wanted to be.

Vic
It was such a landmark for their relationship that Mark recognized Vic's sacrifice and called him "Dad" after all these years.
Mark: Take care of yourself, Dad.
Vic: Yeah, you too, kid.
Mark and Amy have been through so much over the last few years. To relieve their relationship, you can watch All Rise online.
Ironically, Mark thought Amy would ditch him for his family issues since her mom and sister are so judgemental.
Mark: Last chance…
Amy: Last chance for what?
Mark: Last chance to run from me, from Vic and my childhood baggage.
Vic may have his faults, but he's always been fond of Amy, and it's because of her that he's worked so hard to reconcile with Mark.
I will miss these two so much. They've proven they can weather anything together. While I'm thrilled we witnessed their wedding, I wish we could've seen them start a family.
Let's discuss the long-awaited wedding. We've waited over two years for this wedding since Amy and Mark became engaged in All Rise Season 2 Episode 17, and we were afraid we wouldn't see it.
It was such a massive family affair, and all of their friends made it special. It truly represented that the HOJ was family. It was all the little moments from the toast before the wedding or Lola fixing Mark's tie. These friendships were so vital to me.
Amy looked absolutely stunning walking down the aisle. I don't think she's ever looked that radiant.
While I was surprised to see DA Bravo performing the ceremony, I shouldn't have been since he and Mark's relationship has evolved over the years.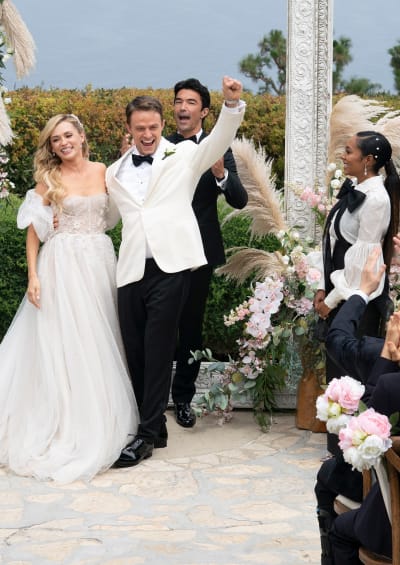 The wedding was the perfect way to end the series. The custom vows showed how far Mark and Amy had come. The two of them had never looked happier.
Mark: Amy Quinn, I could not have asked for a better partner. You challenge me. You push me to be better, and you encourage me to be better. You never ever let me get away with anything. I couldn't imagine my life without you.
Amy: Mark, you have taught me the meaning of true love – patience, forgiveness, and support.
The series has had the HOJ celebrate so many moments together during these final ten episodes, but seeing them at the wedding was the best.
We will never forget those memories and photos in our hearts. Some of them had talented dancing moves.
I am disappointed we never heard Lola's wedding toast after she stressed about it, but her bachelor party toast in All Rise Season 3 Episode 19 was priceless.
While I love All Rise's ending, I suspect they hoped for more seasons. There were still more storyline possibilities floating around.
Luke and Emily had reunited and seemed happy, but we never got an engagement. I would have liked to see them partner up and form their own holistic law firm.
Why wasn't Lisa Benner in the series finale if she would be named the presiding judge of the HOJ? We needed to see her celebrate with Lola and Abigail.
However, most stories seemed to have closure, and I was relieved that all of our couples were happy. Maybe someday, we'll have a reunion movie. One can hope.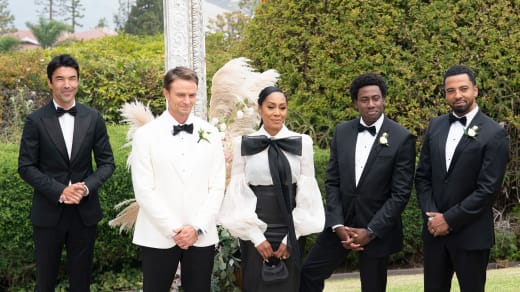 Laura Nowak is a staff writer for TV Fanatic. Follow her on X.