While the long-running series Long Island Medium concluded in 2019, Theresa Caputo has continued connecting people with loved ones. Theresa Caputo is known for her big hair, big connections, big personality, and even her relationship with Big Larry. While Theresa Caputo has made an appearance in the last year, not much has been seen of the family. But where is ex-husband Big Larry Caputo? Recently, Larry posted a hunky selfie that fans can't stop talking about.
Life After Long Island Medium
While the show isn't broadcasting anymore, Theresa Caputo has still been getting out and about. She has stayed active on social media and still seems to be helping bridge the connection to the afterlife. Unquestionably, she loves hanging out with her granddaughter. Reportedly, there has been a change to her style since the show, but she still is sporting her big hair. Seemingly, both Theresa and Larry Caputo have been spending time on their physique.
Big Larry Caputo Looking Buff
In reality, the Long Island Medium star's ex has been busy getting in shape. In like fashion, Larry Caputo showcased his fitness results on Instagram on Tuesday with his new buff look. While standing in front of a mirror, the picture featured Larry nearly "in the buff" no less. Still robed in a bath towel, he advertises his muscular arms and chiseled abs for the camera. Not to mention his collection of chest and arm tattoos that were in clear view. In contrast, he had a longer beard that is starkly different from many of his other photos. Significantly, he referred to the change in beard in his caption. He wrote, "Whether you like it or not. This is a current pic. I didn't shorten my beard. This is the way I like it. This is the way it will stay!"
Sticking To His Guns
He received some kudos for sticking with what he likes, "It's all about what you like, and pleasing others never works. Good for you!" And, "Your beard is perfect the way it is Larry it's no one's business what way you wear it, you look amazing ♥️" Supporting his stance, "We live in a sad world today people are obsessed with how people [are] if you're happy with yourself nobody's opinion matters. You look great by the way some people are jealous they want to look like others so are rude." Not to mention, all the comments about his new body, especially the "guns." Lately, Larry has been pictured several times with his big biceps while enjoying his hobby of indoor rock climbing.
Lookin' Good Larry!
Enthusiastically, fans' comments pour in about Larry Caputo's transformation. Within the comments, one said, "Who is lookin' at the beard when there is so much more to look at?" Another supportive fan remarked, "Holy Cow, you're a handsome man." Someone else excitedly said, "My phone just caught fire, Larry. Thank you!!" Giving Theresa a little flack someone said, "Theresa what we're you thinking???" Sadly, Larry Caputo, 67, and Theresa, 56, divorced in 2018 after 30 years of marriage. After that time, Larry has since focused on his health. Through this, he has shared frequent fitness results on social media to keep fans updated.
What do you think about Larry Caputo's new bod? Do you think Theresa is having second thoughts? Do you miss Long Island Medium? Send us some feedback in the comments.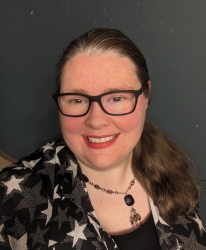 Latest posts by Bonnie Kaiser-Gambill
(see all)