Masterchef has crowned its new winner!
The focus of Masterchef Season 13 has revolved around different regions of the USA competing against each other in hopes of determining which one would come out on top.
And with Grant Gillon's crowning achievement, wowing the judges and winning our hearts, it's safe to say that Midwest is, in fact, the best!
To recount things, Grant, Kennedy, and Jennifer made the top three, and they were tasked with creating a full three-course meal comprised of an appetizer, entree, and dessert that embodies who they are and where they come from.
The top three poured their all into their dishes as family, friends, and previous contestants rooted them on from the sidelines.
Jennifer's final meal theme was incorporating Southern flavors with a French-fine dining technique and experience.
She impressed the judges with a Lobster Succatosh. Her Venison Persillade got mixed reviews for its inconsistency, and her Chocolate Raspberry Mousse "I Love You" cake was raved about.
Meanwhile, Kennedy got creative and artistic with a theme about self-acceptance through the eyes of nature. Her dishes proudly represented queerness, androgyny, and self-love via ingredients indigenous to Colorado.
While her Crispy Skinned Trout was favorable, her Rabbit Saddle garnered mixed reviews, and her Black Sesame Cake was poorly executed.
But it was Grant who brought it home with the most cohesive meal of the finale. He started things off strong with Raviololo al Uovo, had a near-perfect entree with his Pork Loin Medallions with Beer-braised Fennel and Onion, and then topped things off with a positively divine Torn Stout Cake, which was essentially an Affogato.
After the judges' deliberation, it was evident that Grant would be walking away with the grand prize and the title of Masterchef in an emotional finale that left you grinning from ear to ear.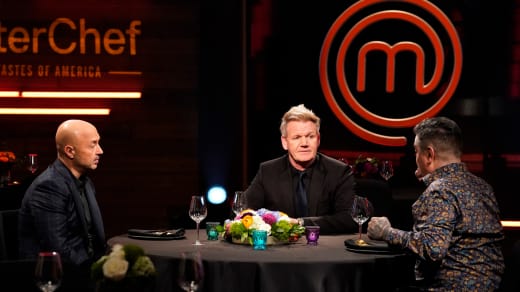 We had the privilege of catching up with the latest Masterchef winner to discuss his triumphant win, his challenges throughout the season, and what he aspires to do moving forward!
The humble, talented, down-to-earth chef was such a pleasure to speak with, and he's impossible not to root for in life after his triumphant win.
It was a long competition, which saw the top 20 contestants broken down into regions, representing Northeast, Midwest, West, and South, competing for the coveted win and the opportunity to represent their region and do it well.
For much of the competition, it felt like anyone's game. Some home cooks would emerge, sitting at the forefront with impressive dishes and techniques, but just as quickly as someone can have a great day, they'd have an off one.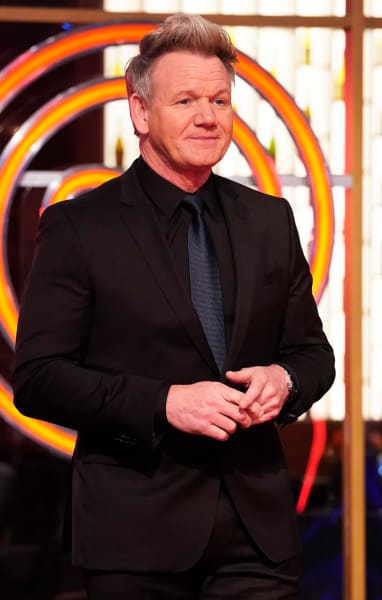 It made the entire season anyone's game.
Cracking that top three was such a phenomenal feat, and by Masterchef Season 13 Episode 20, anyone glued to the screen as Grant, Jennifer, and Kennedy prepared a three-course meal in front of the judges, family, friends, and colleagues could probably surmise that Grant would be taking that win home. He was a total rockstar.
Of course, for Grant, the finale moment was overwhelming and emotional for him.
"It was something. There was just so much stress and adrenaline and everything running through your body, and that was just a moment of release. Not only it's done, it's over, but I won this thing," Grant shares excitedly.
"It was so cool. I keep trying to put it into words; what was it like? But it was literally just that it's done, I finished. And I did it. I did everything I could, and I came out on top."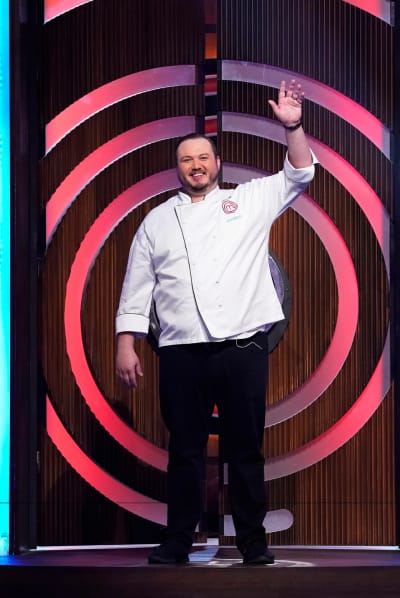 For Grant, making that moment worthwhile was having his family there to support him. He sings his family's praises highly, acknowledging the sacrifices they made on their end while supporting him through this life-changing venture.
Grant is a family man through and through, and you can hear it in his voice whenever he speaks of his beautiful wife, Emily, and his sweet son, Grady.
"It was so great to have my family there with me and be able to share it with them. They sacrificed a lot, allowing me to be gone for a couple of months to film this thing just to have them right there by my side to celebrate. My son could see what I was doing for two months when Daddy wasn't home."
Anyone who tuned into the finale knows that Grant's son was the biggest scene-stealer of the installment.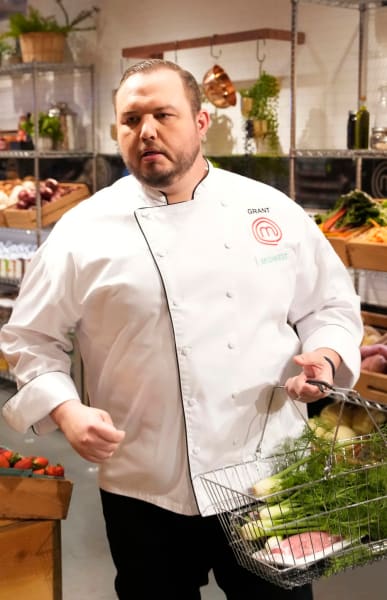 In a sea of family members, friends, and previous contestants there to cheer on the top three, none were as excited, supportive, and adorable as Grant's young son rooting him on through every harrowing moment.
It was easily the most precious aspect of the finale, and it certainly made it easy for viewers to get caught up in the enthusiasm of rooting the Iowan on, too.
"I'm so glad that was left in there," Grant exclaims. You can hear him beaming. "It was just always there. Chopping or sauteing, and I hear, "Go, Daddy." And I'm like, "Oh, my gosh."
One abundantly clear thing is that Grant's family was instrumental in him doing the series, and he feels like this opportunity has been life-changing for them.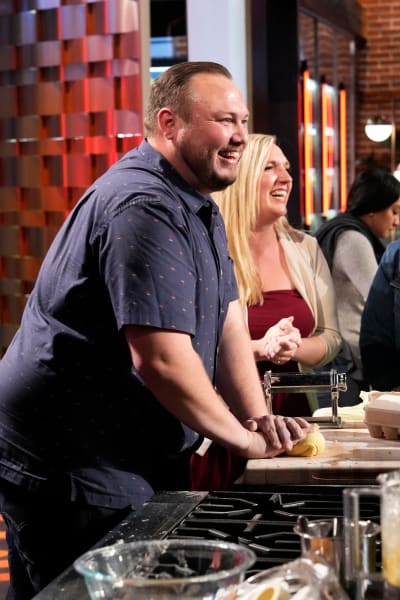 "This win really means a ton for us," he says.
The term "home cook" couldn't be more accurate for Grant.
Cooking was always a big part of his life. He mentions it was always his hobby, but it's evident it went far beyond that; it's a true passion and even a calling.
"I've always had that itch, that desire," he muses. " I always felt like maybe I need to be doing something with food, and maybe I need to do it on my own. Maybe I need to do my own thing and be my own boss."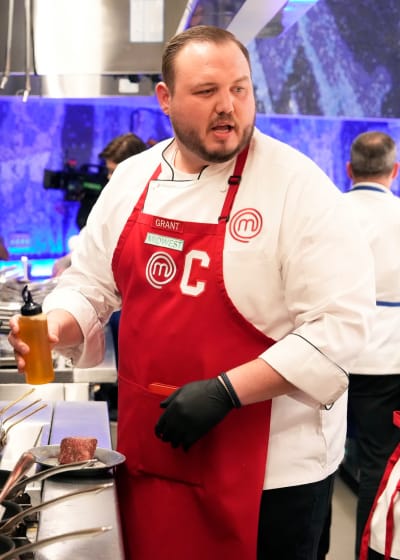 It's what drove him to the series, one which he's always enjoyed, and his subsequent win.
His plans for what he intends to do after all of this are a bit loose, but some ideas are floating around that he's been consistent about since his introduction.
Of course, part of the issue is that the series films in advance, so naturally, there was a matter of waiting for things to play out before he could really take full advantage of this huge win.
"We're taking everything in stride right now. We're still very new to it," he speaks of his recent win. "But the goal, as I said from the outset of MasterChef during my audition, is to open a farm-to-table restaurant in my hometown of Altoona, Grant states firmly.
"And at this point, that is still exactly what I'm looking to do. I'm starting to get the ball rolling on that. After [the finale airs], I feel like I'll have a few more eyes on me with that. But I'm just excited to be able to bring something to my hometown."
Grant's hometown pride is undeniable in a season heavily devoted to regional pride and representation.
He speaks about his hometown so fondly and passionately that he wraps you up in everything he says and makes you want to experience it as he does.
"I was born and raised here, still live here, and I'm raising my family here," Grant shares proudly. "Just to be able to have that opportunity to put my stamp on the town that built me, and that's meant so much to me, is really awesome."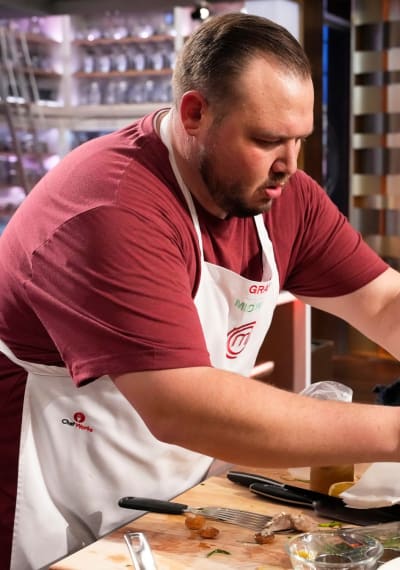 It's that pride and that intention that he brought to the entire competition.
We often saw Grant combining his Sicilian heritage with his Midwestern roots and putting it on a plate for all to see and enjoy.
Most times, it worked; in other instances, it may not have, but that clear identity and consistency is what he served up the entire season.
And it was certainly reflected in his final menu.
Grant's was a culmination of his Italian and Midwestern roots, with his journey and growth throughout the series presented most spectacularly.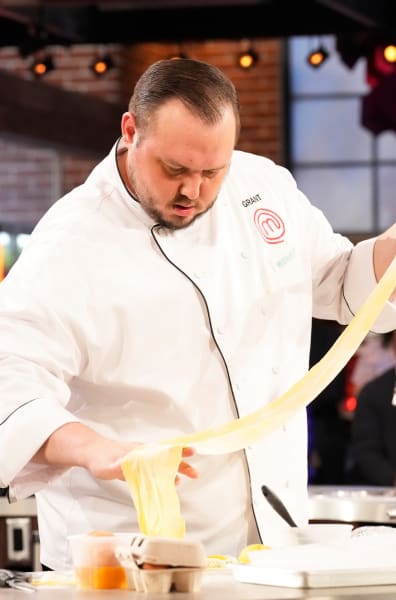 "The mixing of Midwest and Italian was absolutely my goal for the finale. I kind of got known as the pasta guy this season. I'm very comfortable making what I got my apron on, and so I knew that pasta was going to be in there," he recalls.
"I'm like, okay, I might as well just go all in. It needs to be a cohesive menu. Let's do Italian all the way through, but let's bring in some proteins, sauces, or techniques that you usually wouldn't see in maybe a more rustic Italian-style cooking.
"And so that's what I was really pumped to do — my dessert. I was a little afraid to call it an affogato, but that's what I was going for. It's meant to evoke that emotion."
And that final dessert was certainly a provocative one that elicited emotion. We couldn't help gushing about it ourselves and the merit in putting respect on beers and other spirits.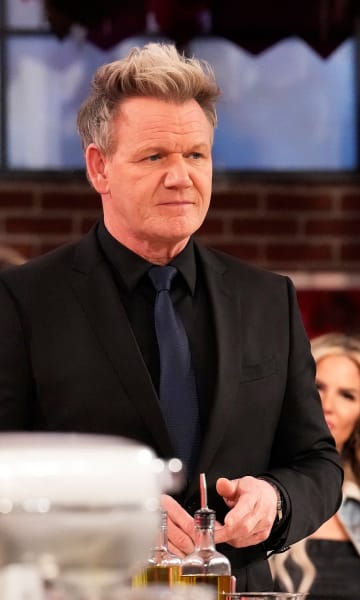 Stout was such a bold choice that gave the judges some reservations, but anyone who has ever had a dessert that uses a good stout. I can proudly say that I know how delicious it is and how wonderfully it works when in the capable hands of a talented person.
"I'm trying to highlight where I'm from and then where my family is from, and I thought," What do I do now as a person? I sell beer." And so if I could get that into the menu, show people. You're always using spirits, bourbon, or wine, all these different alcohols to cook in the kitchen, but you don't see beer on a nice menu. Right?
"I wanted to show that those flavors have a place, and they can fit into not only a fine dining menu but an Italian menu, too. So I thought that was pretty cool."
It was a bold risk that played off during the finale and was also one of the most memorable and noteworthy dishes.
Fortunately, Grant's affogato was not too challenging. No, the more challenging moment of the competition for Grant was his Hell's Kitchen experience.
"That's just something where nothing could have prepared me for that moment," he laughs. "It doesn't matter how long I've watched the show and seen the restaurant takeovers, and I knew what needed to happen.
"I grew so much through everything I learned in this competition from my fellow competitors and the judges. But nothing I learned during that time prepared me to work a line at Hell's Kitchen."
"That one kicked my ass," he concedes. "But it was so fun at the same time. Not only am I on MasterChef and serving Gordon Ramsay, but now I'm serving Gordon Ramsay at a restaurant. Oh. And it's his restaurant. So that just kept building on top of one another there."
The experience wasn't all challenging for him. It was chocked full of rewarding and memorable moments, too. And he also had an enriching experience befriending fellow contestants and learning other regional styles.
Grant notes that cooking at Dodgers Stadium was something he'll never forget.
"Being able to cook at center field of that's, there's only so many people, and it may just be us that could say that they've done that. You know, that's something that I'll always take with me now; having that opportunity to be a part of that rich tradition with the L.A. Dodgers is really fun."
And that fun extended to the lasting friendships he made along the way.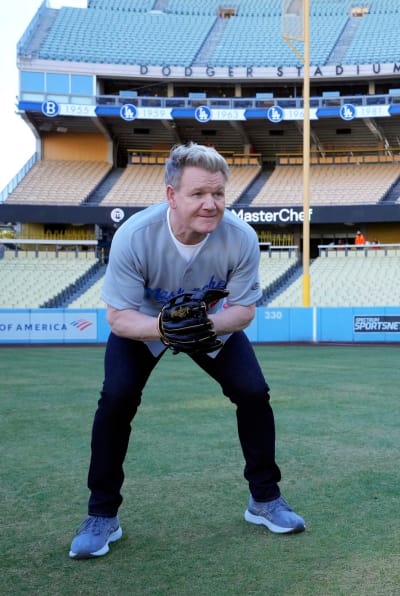 We wondered if he grew close to anyone throughout the experience and if he picked up things he learned from fellow contestants and friends.
There was a strong sense of camaraderie this season among the contestants, particularly with the regions, and it was just as strong behind the scenes.
"I got along with really everybody, but two of what I consider to be my best friends from the show are Brynn [Weaver] from the Northeast and Kolby [Chandler] from the South. We all got along super well and had similar understandings of what we were trying to do and who we are as people.
It's a friendship that has surpassed their time together on Masterchef.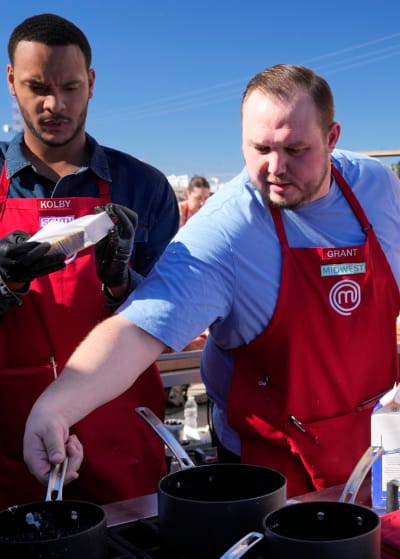 "I talk to them, if not every day, every other day, still just chatting about this, that, and the other, which is a great sign. We're not just talking about food. We're not talking about the show.
"We're seeing what everybody's doing this week or what's going on, how's the family, those kinds of things. I'm forever grateful to have these friendships that will continue on."
His respect for his close friends also extends to what he's learned from them throughout the process.
"Kolby, the level of flavor that he put into each and every one of his dishes was just incredible. And learning about his thought process and just seeing how he worked in the kitchen was so cool. He's very, very smooth. He's very good in the kitchen. And so I really enjoyed seeing him and his different flavor profiles.
"I loved getting to be around people from Alaska and Hawaii, places that I've never been, and experience cuisine or the style of cooking they have there.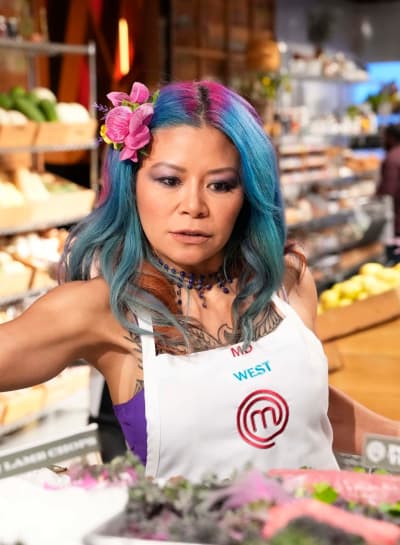 And I learned so much from everybody. Just the regional thing, I think, was awesome. It just allowed us to understand more about the different regions, and hopefully, the rest of America did, too.
As we mentioned, Grant was a bit of a dark horse throughout the series, and he didn't seem to pop until roughly halfway through the season.
And yes, some of that was intentional and strategic on Grant's part. While he always wanted the judges to notice him, he was reluctant to take too many big risks too early into the season.
"The confidence thing I was still working on when I started, " Grant shares honestly. "But I knew if I did what I knew how to do, I could execute it well," he explains.
"I knew this was a crazy situation — cameras in my face and coming up with things on the fly. But for the first little while, I just wanted to do what I needed to do and not take any risks. If I can get to the top 15, I can get to the top ten."
"So that was my goal," Grant states. "I didn't want to necessarily fly under the radar because I still wanted to be noticed. I wanted the judges to see the technique that I had and that I knew what I was doing in the kitchen.
I needed to get a feel for it. I needed to know what it was like to cook in that kitchen a little bit more, and sometimes you can't do it. And then we got to the MRE challenge, and I said, "All right, it's my time. Let's go! And I guess the rest is history."
Grant mentioned his struggles with confidence often, and he's very open about it being something he constantly worked on in his life.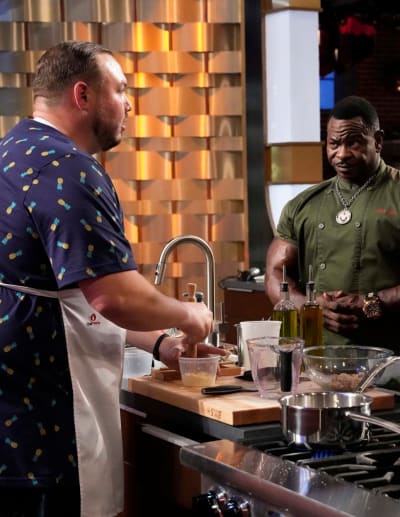 Even throughout the series, seeing his journey within the show was rewarding as he grew more confident with his abilities and what he put out.
"I don't know what it is about me. I always just seem to have this kind of Imposter Syndrome," he admits. "Showing up to L.A. with all these other amazing home cooks was tough. I thought I was really good, but, man, I felt there were a lot of really good people.
"I don't generally like to brag or boast, so I'm never that person to go out of my way or advocate for myself. But throughout the season, I kept progressing and getting this feedback from the judges and hearing Gordon Ramsay say so many nice things about my food; it really clicked. I think it was right after I had my kind of stumble, but it's like, no, I have to win this thing!"
"I can win this thing. I've gotten through it," he recounts his time at the bottom.
"I'm not going to be in the bottom again. I did it twice. We're going back to my roots. We're going back to what I know how to cook and how I know to do it well. And I'm like, I can impress people in the future with new and crazy things, but right now, I'm going back to my roots and just putting my head down and doing it."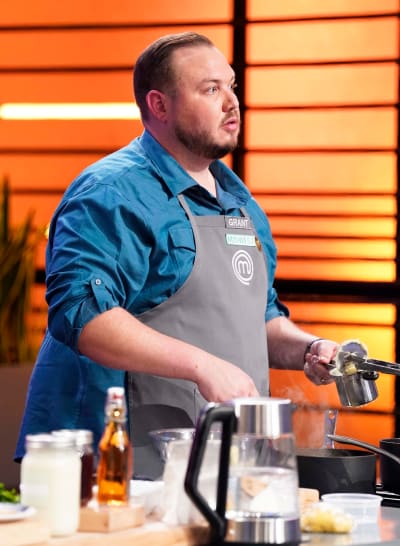 "I'll say I'm proud of myself. I never thought I would have the opportunity to audition for this show in a million years, let alone be in the finale and win it!"
On the topic of the competition, we wondered what type of advice Grant would have for future contestants who want to pursue their dreams like he has.
He's a home cook who is ironically enough inspired by Gordon Ramsay himself and improved his cooking skills through YouTube videos and the like.
First things first, learn the basics. You need to learn basic flavor profiles. Learn how to do sauces, figure out what works well together, and then build off that. I look at cooking as an art. Baking is a science. You've got to get everything down to a teaspoon.
"But when it comes to cooking, just keep messing around with flavors. Keep finding out where you like the flavor profiles, and always be in the kitchen.
"I've screwed up a lot more than you see," he confesses. "People always say Instagram and social media is a highlight reel. You're seeing all the good stuff. So don't be afraid of failing, but just make sure you always learn from those failures and turn them into triumphs."
It's perfectly sound and wise advice from the champion, so all the aspiring home chefs interested in trying out should take heed.
—
If you want to catch up with Masterchef, you can stream the full season on Hulu. You can also check out our Masterchef Content right here at TV Fanatic.
For more of your food-related content, you can follow our sister site, Food Fanatic.
If you'd like to keep up with Grant Gillon and what he does next, you can follow him @grant_gillon on Instagram or the same handle on X.
Jasmine Blu is a senior staff writer for TV Fanatic. She is an insomniac who spends late nights and early mornings binge-watching way too many shows and binge-drinking way too much tea. Her eclectic taste makes her an unpredictable viewer with an appreciation for complex characters, diverse representation, dynamic duos, compelling stories, and guilty pleasures. You'll definitely find her obsessively live-tweeting, waxing poetic, and chatting up fellow Fanatics and readers. Follow her on Twitter.