Recently, Travis Kelce and Taylor Swift have been a popular topic. So when Travis is interviewing with Wall Street Journal Magazine, it is no wonder the conversation gravitates to how he initially met Taylor Swift.
Travis Kelce Gets Blocked
Unquestionably, there were a lot of angles worked for Travis Kelce to make it happen with Taylor Swift. Admittedly, he wasn't sure if he wanted to get into the full story during the interview. However, he shares that originally, he went to meet her at an Arrowhead concert in July, then got blocked by security. After the restricted attempt, Travis gave a charming account of the incident in his podcast, New Heights with Jason and Travis Kelce. He says he wanted to give her a friendship bracelet with his number on it. His candor led to an opportunity when word got to some of Taylor's circle of friends. Travis reflects, "There were definitely people she knew that knew who I was, in her corner [who said]: Yo! Did you know he was coming?" Admittedly, he says, "I had somebody playing Cupid."
Travis Kelce reveals '1989' is his favorite Taylor Swift era in @WSJ interview:

"Blank Space was one I wanted to hear live for sure. 'I could make a bad guy good for the weekend.' That's a helluva line…I've never been a man of words. Being around her, seeing how smart Taylor… pic.twitter.com/7M26ieEsFZ

— Pop Crave (@PopCrave) November 20, 2023
Taylor Swift's Circuit Pulls Some Strings
But at that point, Travis Kelce was unaware of the matchmaking assistance happening in the background. Unbeknownst to him, he looked at his phone at the shocking orchestration that happened on his behalf. Then he says, "She told me exactly what was going on and how I got lucky enough to get her to reach out." Additionally, Travis Kelce points out that he had a big assist from Taylor Swift's family as well. "She'll probably hate me for saying this, but…when she came to Arrowhead, they gave her the big locker room as a dressing room, and her little cousins were taking pictures…in front of my locker."
Travis Kelce Talks About The First Meeting
While Travis Kelce didn't kiss and tell, he did offer some information about the initial meeting. Undoubtedly, in a gentlemanly way, Travis Kelce withheld most details about their first true date. But in the few details he shares he says he was fairly at ease for the occasion. He shares, "When I met her in New York, we had already kind of been talking, so I knew we could have a nice dinner and, like, a conversation, and what goes from there will go from there." Naturally, others in his circle showed their nerves, "Everybody around me telling me: Don't f— this up! And me sitting here saying: Yeah—got it."
Furthermore, Travis Kelce stated in the first few weeks he was careful about what he said to the media. Knowing that there was plenty of reporting happening about Taylor Swift cheering him on from his suite. Saying, "That was the biggest thing to me: make sure I don't say anything that would push Taylor away."
What do you think about the first few interactions between Travis Kelce and Taylor Swift? Is it surprising to you the shocking way they met? Do you think it is getting serious? Drop your comments in the section below.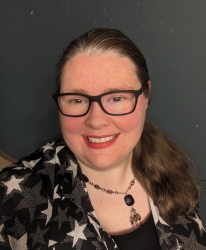 Latest posts by Bonnie Kaiser-Gambill
(see all)