What about the final days before a baby arrives gives a mom a bit of the jitters? The Vanderpump Rules alum, Stassi Schroeder, is looking gorgeous in the final stages of her second pregnancy. As the expected date nears, Stassi Schroeder has been making all the necessary arrangements and finishing up last-minute tasks. However, the busy mama has given an update about her concern about having baby number two. 
Stassi Schroeder Worries About Baby #2
While it is completely normal to have some concerns leading up to a new birth, Stassi Schroeder gave fans a glimpse of her current anxiety on the matter. "I am worried that [having my second baby] is going to totally disrupt the things that I love about my life right now," she shared on the Give Them Lala podcast. "I love my life right now and I love our little family." She continued, "I love how we handle Hartford and how we do things together."
All things considered, it can cause any parent to question when friends and family give well-meaning advice leading up to a birth. Needless to say, Stassi Schroeder is no different. She expressed, "Everything I hear about having a second baby is that you don't really get to spend time with your partner anymore because you are just separated. Each person is taking care of each kid and I am mainly worried about what that will do and how a second child will disrupt our flow."
New Beginnings Come With Lots Of Transitions
Welcoming a new baby, while having another child at home is a big step. Above all, it is completely understandable that Stassi Schroeder has some nerves as she approaches these new beginnings. It affects the whole family and there are tons of transitions that each family member goes through during that time. Often it can be a stressful time, with little sleep, and not feeling like there's enough of either parent to go around. However, the infant stage is short and a shift in the family naturally happens.
Openly, Stassi Schroeder shared, "It is my fantasy to have a s—t ton of children, a lot of them. When I think about what I want my children's lives to be like, I want to be able to devote so much attention to each of them and give them as much as possible," she exclusively told Us Weekly. "I'm like, 'If I had a third, how would I give that one as much attention as these other two?' So at this point, I feel like two is a great number for me, but never say never because I might wake up one day and decide today's the day. You never know."
Grateful For The Next Chapter
All concerns aside, Stassi Schroeder also mentioned just how grateful she is to have an opportunity to be pregnant. She recognizes how lucky she is to have another child. She also expressed how having a new baby has made her perspective on life change. "I don't know if just becoming a mom makes you way more selfless or something like that. Or if just I'm that excited to have another baby," she added.
Stassi Schroeder and her husband, Beau Clark, enjoyed their last date before the baby. Or as she joked, "It is the last dinner I am going to have to go to sober."
Congrats to the couple on this new adventure. Do you think she should be concerned? How did you transition with a new family member? Let us know in the comments.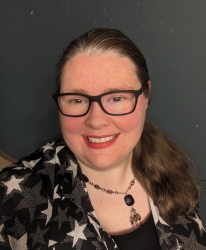 Latest posts by Bonnie Kaiser-Gambill
(see all)